Don Williams at the 1999 SCC Festival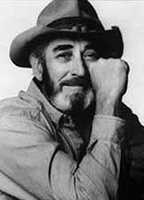 The magic element to the mighty talent of Don Williams is this:
It's the voice !

It's a rich, thick, barbeque sauce of a thing, as warm and honest as a country preacher's handshake, as calming as a light rain. It's a lucky thing Williams has chosen to use that voice for the cause of goodness; in the wrong hands it could hustle used cars, hypnotize armies, perhaps even get a man elected to public office. Instead, Williams has applied that voice to singing simple songs that have moved folks from his home town of Floydada, Texas, to the Ivory Coast. Hits like "Tulsa Time", "Amanda," "Lay Down Beside Me," "I Believe In You," and "Good Ole Boys Like Me," are testament to his talent, but he doesn't sell a song, he doesn't have to. All Williams has to do is open his mouth. It's been that way for the better part of five decades, starting back when pre-teen Williams had Texas radio as his teacher.
"I had a reasonably low voice back when I was 12 or so," says Williams in a reasonably low voice. "I remember when I was in high school, I cut one of the first recordings that I did on any kind of equipment that amounted to anything, it was a Jim Reeves song. This guy who recorded it took it over to a restaurant that had a pretty good sound system and played it, and the people there were saying,'You mean this big voice came out of this little bitty guy?!' Back then I was about five foot two and weighed around 120 pounds."
If you're going to talk about the voice, the hat is not far behind. Williams' lived-in lid is not to be taken lightly. This is no fancy prop from some Nashville image consultant's wardrobe locker, his battered brown headgear has been an anchor for the eyes nearly as long as the voice has been an attraction for the ears. "I've had this hat about 15 years," he says, "but the original hat is not the one that I wear, this is the second hat. The first one I had stolen and ultimately got it back. Then Stetson was nice enough to invite me out and said that they would come as close as possible to trying to duplicate the hat. The original hat doesn't even have a manufacture's name in it, just a gold shield that says U. S. A. " Which is fitting; Williams has long been one of the country's strongest exports. His albums are unwavering currency from Belgium to Spain to Sweden to Africa to Brazil. Some of his biggest fans in Great Britain (where seemingly everyone is a Don Williams fan) are a couple of blokes named Eric Clapton and Pete Townshend, and the UK's Country Music People magazine voted Williams Artist of the Decade.
But Don isn't given to analysis of such things, he just sings the songs and hopes for the best. "Well, I don't know the reason for all that popularity, it's been that way from the very beginning," he offers. "I was having more success in the British Isles than I was in the States when I first started. I didn't have a label over there, but the sales on imports were tremendous. I just try to do what I do, and wherever it falls it falls."
Gravity has been good to Williams. Of his 27 solo albums since 1973, five have gone gold, and 45 of his 56 singles have entered the Top 10. His original compositions have been recorded by the likes of Kenny Rogers, Johnny Cash, Charley Pride, Lefty Frizell, even Clapton and Townshend. He's taken a turn in Hollywood, working with Burt Reynolds in the films W.W. and the Dixie Dance Kings and Smokey and the Bandit II, and while you probably wouldn't think of Williams as a techno pioneer, he was the first country artist to make a concept video - way back in the pre-TNN stoneage of 1973 - for his third single, "Come Early Moming."
Perhaps the attraction to Williams' music, from fans and fellow artists, is his non-traditional approach to country songs. You won't find him warbling about getting bombed, driving fast and divorcing his third wife. In fact, the man has been married since 1960 to Joy. The couple have two sons, "Gary, who plays drums, has a band in Nashville and is as involved with music as he can be," says dad, "and Timmy, who's a budding songwriter in Nashville, and has an eye to be an artist at some point."
Those strong family values show through in Williams' style as an artist. "I've always appreciated songs that have the possibility of a broader appeal. To this day I love songs that talk about a relationship in very strong ways, but it doesn't necessarily have to be taken just as a guy's feelings about his woman. It can be on a much broader scale than that, talking about a friend, or your relationship with God, just more general."
Traditional values come easy to Williams, he's lived by the nose-to-the-grindstone ethic all his life, through stints as a bread truck driver, bill collector, oil field hand, furniture salesman, soldier, and, of course, musician. Though he'd been singing since the age of three (when he won first prize in a talent show and took home an alarm clock), it wasn't until the age of 25 that he took the first big step into a full-time music career. "I had always enjoyed music, but it was my hobby, something to get my mind on things other than what was going on in my life at the time. I always thought it would be the grandest thing in the world if I could make a living doing it, but I never really felt that would happen." How wrong he was. Along with Lofton Cline and Susan Taylor, he formed the Pozo Seco Singers in 1964. "When we started the Pozos, it was really our intention to be a folk/ country group," Williams says. "Then what we thought was the A side of our first single, a song I wrote called 'Down The Road I Go,' was quickly overshadowed by'Time,' which was the other side. That pushed us more in a folk/pop direction." "Time" made it to the Top 10, and though the trio was popular on the college circuit and charted five more times, it split in'69.
Williams stepped out of the spotlight, heading to Nashville to work as a songwriter. But his passion to get the music across his way won out, he signed to JMI Records in'72 and has worn the mantle of "artist" ever since.
But the man who is just as comfortable mending fences on his Middle Tennessee farm or fishing with his family wasn't dubbed the Reluctant Superstar for nothing; his mission is to bring inspiration to others, not ride around in limos. "The only way that I would be comfortable with that sort of title is when people tell me that my music has helped them through some stage of their life," he clarifies. "Then I feel that what I'm doing or saying has been meaningful to someone. But as far as that whole approach to special treatment and people carrying on over you, I never have been too big on that."
Don may just have to swallow the "carrying on" part and accept with grace the fine things being said by fans and critics about his latest recorded effort, the album FLATLANDS. Of the 13-songs, seven were written by a Williams (five by Don, one with his youngest son Tim, and Tim also has a solo credit).
And what would a Don Williams album be if it did not include a song by Don's longtime friend Bob McDill who wrote the opener, "Shadow Land," an engaging ballad that reflects mind pictures of the Texas coast of another time. Contributing songwriters to FLATLANDS also include Don's exceptional band, the venerable Don Schlitz, and a plumber from California who composes music now and then for the sheer fun of it. "When a songwriter brings me a song, if what he's doing dictates a mood I stay as close as I possibly can to that because that's part of the essence of the song," says Don. He admits he was completely captivated on his first listens to the song demos written by others that made it on this album.
Don Williams is a perfectionist about the music he makes. People recognize this and respect him for it. His deep amber voice paints emotional pictures which bring alive the soul of a melody, the meaning of a lyric. He chooses his songs with care, picking only those that touch him, those that he can sing with conviction because they reflect his own perceptions of life.
1994's An Evening With Don Williams is a little chunk of exactly what the singer has brought to his fans over the years (and what his fans bring to him), a live recording of 15 Williams classics put on tape at the Royal Albert Hall in London, St. David's Hall in Cardiff (Wales) and BICC in Bournemouth, England. The mood of Don's first live album is intimate and heartfelt, more evocative of a living room get-together where he just happened to bring a guitar and a band, You can really hear the love and respect Don's UK fans have for him when the audience has their chance to give something back between songs on this recording.
Borrowed Tales was the perfect second course to an evening of Williams hits. The 1995 album, also for the American Harvest Recording Society - this one cut in the studio in Nashville - is a collection of songs, hand-picked from a mixed bag of country, pop and rock. Tunes by artists from Gordon Lightfoot ("If You Could Read My Mind") to James Taylor ("You've Got A Friend") to the Box Tops ("The Letter") to the Everly Brothers ("Crying In The Rain") to Peggy Lee ("Fever") to good ol' boy Eric Clapton ( "Lay Down Sally") all nestle in quite comfortably together. Though the lineup may be slighty eclectic, the trademark Williams baritone is the glue that holds the set together.
He reprises an earlier statement when he voices the fact that staying close to the way the songs on BORROWED TALES were originally done was recognition of the greatness of those arrangements. "But hopefully," he says, "I changed just enough of it that people might feel like it's a bit mine too."
For an artist with the integrity of Don Williams, that's easily accomplished. "I just do what I do the way I do it. I've never taken drugs or got drunk just to make somebody feel like I fit the criteria. I always thought that if it was going to happen for me it would happen, and if it didn't I would do something else."
At this stage, the only thing Williams will have to do is keep making music. Things have pretty much worked out for the mild-mannered man from Floydada. "It's gone far beyond anything that I expected," he says. "If you get down to real basic terms, just the fact that I can make a living doing what I love to do, I think anyone who can do that is among the most blessed in the world."