Shania Speaks Out On Nashville

In a recent interview with Geoff Boucher of the LA TImes, Shania Twain says she's not too happy about the state of country music. "As a listener, there's not a lot of country music today that I like," she tells Boucher. And she describes the Nashville mind set as "cookie cutter," adding, "They discourage any kind of originality. If there was a young George Jones out there, he might never get a chance."
This may sound a bit strange coming from the reigning queen of country-pop, but she knows what she likes: "The classic country is what I prefer. It's just beautiful songwriting." That there isn't a whole lot of "classic country" evident in Shania's music doesn't seem contradictory to her. "I grew up in freakin' Timmins, Ontario," she says. "I'm not a cowboy. We had snowmobiles, not horses. I'm proof you don't have to be of the cowboy culture to enjoy country music. People said, 'You have to decide what you are, either pop or country or rock or R&B,' but I couldn't make up my mind. And in the end I didn't have to. I wound up doing a little bit of everything. And it's wonderful."


*** George Jones won't do jail time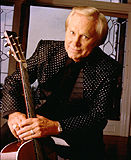 FRANKLIN, Tenn. (AP) - Saying "I did wrong," country singer George
Jones pleaded guilty Wednesday to a drunken driving charge for an
accident that nearly killed him in March. As a result, he will not
have to do jail time. Jones, who was indicted Monday, pleaded guilty
to charges of driving while impaired and violating the state's open
container law. A reckless driving charge will be dismissed in a year
if he completes alcohol counseling and is not arrested again. "I
don't remember much about the day of the accident, but I do know that
I was drinking and obviously my driving was impaired," Jones said at
a news conference after the court hearing. "I did wrong that day and
I take full responsibility for what happened."

ACM Winners


Husband and wife Tim McGraw and Faith Hill walked away with the top honors at the 34th annual Academy of Country Music Awards in Los Angeles, while Garth Brooks was named artist of the decade and entertainer of the year.
Hill captured the most awards - five - including top female vocalist, single record of the year and video of the year for her pop-country crossover hit "This Kiss," and vocal event of the year for "Just To Hear You Say That You Love Me," her duet with McGraw. She also won a Hat Award for producing "This Kiss." It's the second year in a row the couple won vocal event of the year award. They took the honor last year with "It's Your Love." McGraw also was named top male vocalist.
It was also a big night for the Dixie Chicks, who won in all three of the categories for which they were nominated - best album for Wide Open Spaces, best new duo or group, and best duo or group. They beat seven-time winners Brooks and Dunn for that honor.
Garth says he's overwhelmed with being named artist of the decade. He follows in the footsteps of previous award winners Marty Robbins, for the 1960's, Loretta Lynn for the '70s, and Alabama for the '80s.
Other award winners:
- Song of the year - Steve Wariner, "Holes In The Floor of Heaven."
- Top new female vocalist - Jo Dee Messina.
- Top new male vocalist - Mark Wills.
- Double Diamond Award - Shania Twain.
- Pioneer Award - Glen Campbell.

Gotta Go With Garth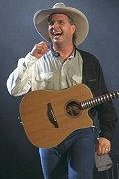 The Academy of Country Music will name its artist of the decade during its awards ceremony on CBS, and Tom Roland of Nashville's Tennessean newspaper says there's not a doubt in his mind that the award will go to superstar Garth Brooks. And Steve Wariner agrees, saying Garth has "opened up a lot of doors for us artists....He knocked down some doors, in my opinion, and has really taken country to places it's never been before and exposed it to people that would not normally be accepting of it. I don't know who else it would be."
Marty Robbins won the award in the '60s, Loretta Lynn in '70s, and supergroup Alabama took the award home for the '80s.
But what about Vince, George, Alan, Trisha, Sania, Mary Chapin, Reba, Clint, Brooks & Dunn…?
Roland says Brooks is certainly not the only artist who has made a phenomenal impact on country music this decade. Vince Gill has set a record for Country Music Association wins. Alan Jackson and George Strait have kept traditional country music on the charts. Trisha Yearwood has led a creative pack of new country women, and Shania Twain came along midway through the decade and rewrote the rules on what was appropriate for country females. Still, Roland says, "None of those acts has been an ambassador for country music quite like Brooks." And adds Wariner, "I really do think that for good or bad, for however your viewpoint is on him, he's been good for the industry."
Songwriter Crashes In On Vince

While recently driving his car in Nashville, Vince Gill was rear-ended in a three-car collision. No one in the accident was hurt, but while waiting for police to come sort things out, one of the other driver's involved in the wreck recognized Vince – and pitched him a song. Seems like in Nashville you really do run into songwriters everywhere.
Meanwhile, Vince and Patty Loveless are adding their talents to a free acoustic tribute to crime victims in honor of National Crime Victims' Rights Week. They'll perform tomorrow night (April 29) at Nashville's Tennessee Performing Arts Center.
Leann's Movie Career Gearing Up

Previously we reported that LeAnn Rimes might be popping up on the big screen in a movie called Under The Mimosa. Apparently, LeAnn has really been hitting the audition trail lately, and from the sound of it, we might be seeing her all over the place. We caught up with the teen queen of country who told us about her budding acting career: "I still go to auditions like everyone. It's fun. I enjoy it. It's something new for me. Y'know I've always wanted to get into the acting thing, and I've been auditioning for a lot of films lately, and so we'll see what happens. I am very lucky that I can be picky with what I do. I really want to play a part that has a lot of meaning and something that will affect people when they go see the movie in a positive way." According to Country Weekly, Under The Mimosa will be filmed in LeAnn's home state of Texas.